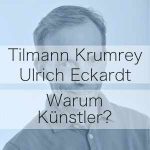 Tilmann Krumrey (b. 1966)
German sculptor Tilmann Krumrey comes from a 'bauhaus' family and began his career as an abstract, modernist artist.
However, his first contact with art happened eight years old, in his childhood, when he stayed his summer holidays at the house and studio of charismatic Doris von Sengbusch-Eckardt (1905–2000), an expressionist sculptor and sister of his grandmother and lateron as well in the studio of his uncle, the painter Alberto Fessler.
Krumrey studied art history and economics. He was first mentored by his father Immo Krumrey, interior architect, master student of Max Bill and industrial designer, and then by the renowned sculptor and silversmith Prof. Hartwig Ullrich. Both strongly founded in bauhaus heritage.
A journey through Greece was the turning point: Krumrey embarked on an intensive dialogue with the classical figure and made the human form subject of his creative adventure.
Through researching existential philosophical topics, Krumrey became familiar with Campbell's archetypal Monomyth model. His ongoing investigation of 'the hero's journey' yielded numerous artworks and provided the impetus for the Monomyth series. He is profoundly influenced by notions of physicality in antiquity as much as by Michelangelo and Rodin. The mirror-image multiplication of Cain and Abel may be considered an innovation in the field of figurative sculpture.
ARTIST STATEMENT
"Ich arbeite im Steinbruch des Menschseins und habe das Herz eines Poeten.
"I work in the stone quarry of human character and have the heart of a poet."
Why do I create art?
My purpose is building bridges between the inner world of dreams and the physical world surrounding. Universal body language unlocks spontaneous access to individual soul condition and mythological content, the "public dream". Balance of outer and inner world is significant for health of mind and psyche, individually as well as for society.
How is my solution?
I systematically explore basic body actions: standing, laying, sitting, hanging, jumping, resting etcetera and transform these postures by flipping, cutting, fusing, combining, sharpening and blurring. By processing this morphological matrix I find innovative solutions for figurative sculpture. I unroll the universal story of these creatures as characters within built environment and videoart.
Those staged scenes interact with all senses of the audience. Acoustics, light, temperature, smell, bodysense, action, all melts
into one holistic piece of art ('Gesamtkunstwerk') that changes consciousness and interconnects inside-out
https://www.tilmannkrumrey.com
—
Möchtest Du einmal Interview-Partner bei einem Podcast sein? Dann melde Dich schnell unter
#podcast #TilmannKrumrey #Künstler #Ulricheckardt